Open Weekly Meetings
Come meet the crew! We're committed to building our network in an inclusive manner, and this starts with our weekly open meetings. Come ready to meet some incredible network engineers, and hopefully some kindred spirits. We're always looking to recruit more people interested in helping us build our tech and our outreach strategy.
We meet every week at 7:00PM
1st Tuesday
7:00PM - 9:00PM
Industry Lab
288 Norfolk St.
Cambridge, MA
2nd Tuesday
7:00PM - 9:00PM
Democracy Center
45 Mount Auburn St.
Cambridge, MA
3rd Tuesday
7:00PM - 9:00PM
Encuentro 5
9 Hamilton Pl.
Ste. Ⓐ
Boston, MA
Build Community Ownership
Lower Your Monthly Internet Costs
Secure Your Communications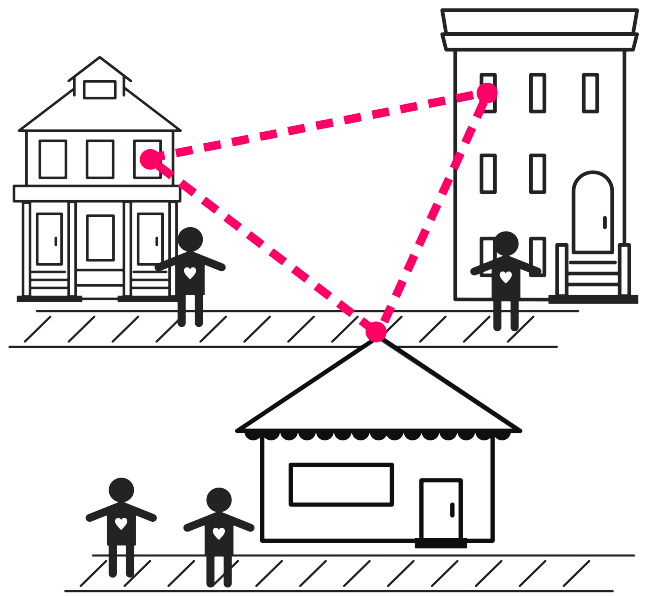 Wireless community-owned networks (WCNs) are a grass-roots alternative to Internet service providers that protects your privacy and respects net-neutrality.
Unlike private or municipal networks, ownership of our network is distributed.
Since each router we install together is necessary for the transmission of data, distributed ownership can be guaranteed with simple legal documentation. Our networks allow communities to move beyond exclusionary producer/consumer relationships demanded by existing ISPs towards a neighborly experience within their WCN.
If you care about the Internet, we need your help!